Get Soundcloud Buzzing For FREE - Malko Realiity
Get Soundcloud Buzzing For FREE - Malko Realiity
HOW TO PROMOTE YOUR SOUNDCLOUD FREE 
So you have a good amount of songs on your soundcloud and your struggling getting clicks? here are some easy FREE soundcloud promotion tips. 
1. Social Media Marketing
First things first lets start with basics, if you don't pay a professional promoter for social media this is what you should do. Make sure you have your best soundcloud song link in all your bios/descriptions on all your other profiles such as twitter, ig, etc... ALSO do not spam a lot its ok to share here and there but don't do it to much. I have seen artist who post 100 times a day the same link that is a good way to annoy your fans and lose support. Use the 1/10 rule. For every 10 posts on your social media only 1 of them should be self advertisement. 
2. Using Tags
On soundcloud you have the option to place tags on your song, make sure your rap name is on every song you release, also use relevant tags such as rap, hiphop, EDM, etc.... Also find out what is trending and remix sons with catchy/click bait titles.... Your goal is to make sure people click on your song, if people don't know you they won't just click even if you have Jesus him self on the hook.... 
3. VISUALS 
I am sick and tired of seeing artist upload selfies for cover art on their "HIT SINGLE" make sure you use good pictures that catch peoples attention... 
4. Using Data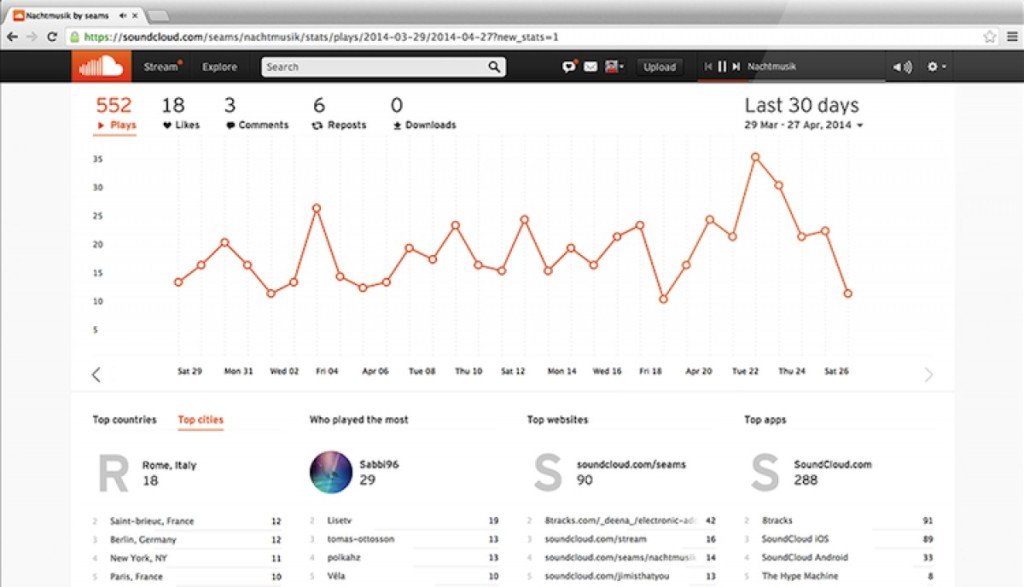 You can use this data to figure out what city likes your music, where your hot, and where you can do a show.... 
5. NETWORKING
You and many other artist want to get exposure, so repost each others songs everyday.... Repost your friends song for 3 hours and remove it... keep repeating that but don't do it too much because it can get annoying.... I noticed big time Indie labels do this with their artist repost their song for a day,